What is a Christmas Panto?
I know it's not quite the season to talk about Christmas but, after visiting Dublin in March, I felt an explanation was due as to what a "pantomime" is.
According to Wikipedia it is
..a British institution. Pantomimes take place around the Christmas period and are nearly always based on well known children's stories such as Peter Pan, Aladdin, Cinderella, Sleeping Beauty etc. Pantomimes are performed not only in the best theatres in the land but also in village halls throughout Britain.

Wiki
A British Tradition
To most non-British the word 'pantomime' refers to the act of 'miming' (to use no sound i.e. only gesture or movement to act out a role) and can lead to some confusion. The modern-day pantomimes are a musical theatre production for the whole family which usually takes place around Christmas and New year.
Most cities in England put on a pantomime (or panto) and it has become a family Christmas tradition. I remember going to York Theatre Royal to see Peter Pan with my family – ranging from 6 months to 70 years old- a good time was had by all. My 3 year son old went home with vivid memories (slightly traumatised by the baddy, Captain Hook) and a plastic sword and hook.
The Essentials of a Pantomime
The typical panto has 2 layers of humour: slapstick, buffoonery and gags which the kids love and then a more subtle array of mild sexual innuendoes and in-jokes. If you ever go to one these are some of the conventional ingredients you'll find:
a storyline based on a fairy story e.g. Jack and the Beanstalk, Cinderella or Dick Whittington
audience participation: be it shouting or singing. The most popular examples: to warn our hero we shout "Behind you!" or we argue "…oh no you're not!" or boo when the baddy comes on stage.
tomfoolery: the throwing of custard tarts, a messy kitchen scene
a final act sing-a-long including performers and audience.
The traditional characters
The principal boy, who is nearly always a girl dressed in breeches
The Dame, who is nearly always a man in drag
A pantomime horse (or cow or camel), which is played by 2 actors in an animal costume
A villain e.g. a wizard or wicked stepmother
A good fairy
Celebrity Appearance
To add to the entertainment and marketing value, celebrity guests are invited to take part in the piece. It can be rather curious and amusing to see a TV soap opera actor playing "Buttons" (a male servant) in Cinderella.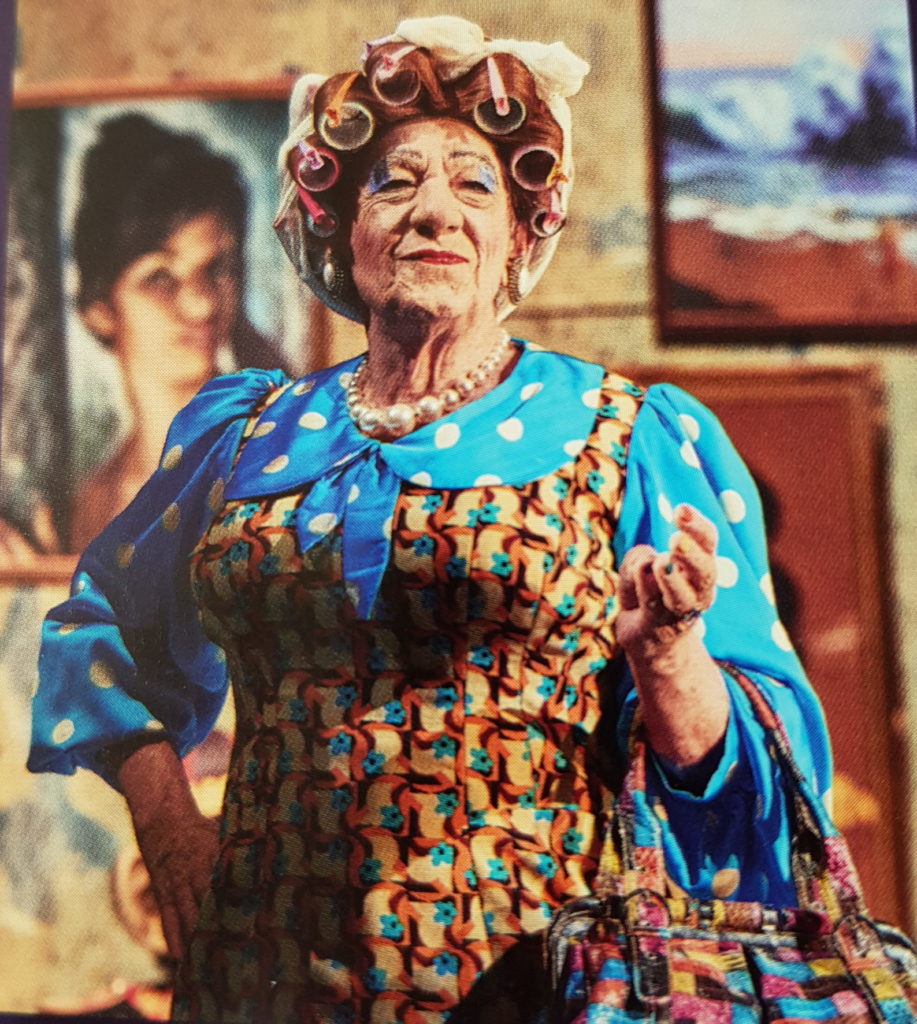 One of the current greats in pantomime is Sir Ian McKellan, the Shakespearean actor, who has mastered his role as the pantomime dame. A critic said of Ian McKellen in a 2004 Aladdin that he:
"lets down his hair and lifts up his skirt to reveal a nifty pair of legs and an appetite for double entendre:

Michael Billington
We were witness to McKellan's Mother Goose performance on the Dublin stage. It was brilliant. Not bad for a 83 year old.