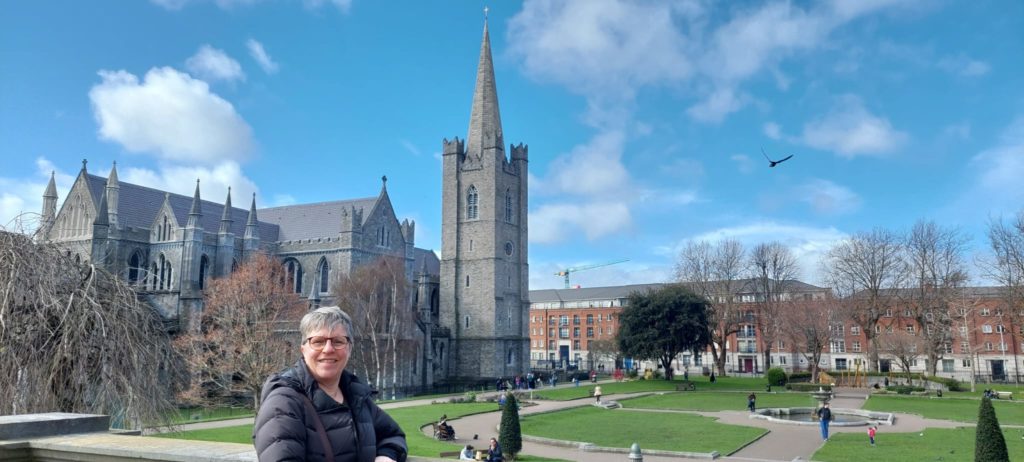 The Graham Norton Show
In November 2022 I was sat on the sofa watching "The Graham Norton Show" on English TV. Apart from being an entertaining chat show with interesting guests and never a dull moment (especially with the red chair when people get tipped backwards), this programme is usually worth watching just to catch up with the latest films, series or books etc. This particular evening it inspired my husband and I to book a trip to Dublin.
Spur of the Moment Decision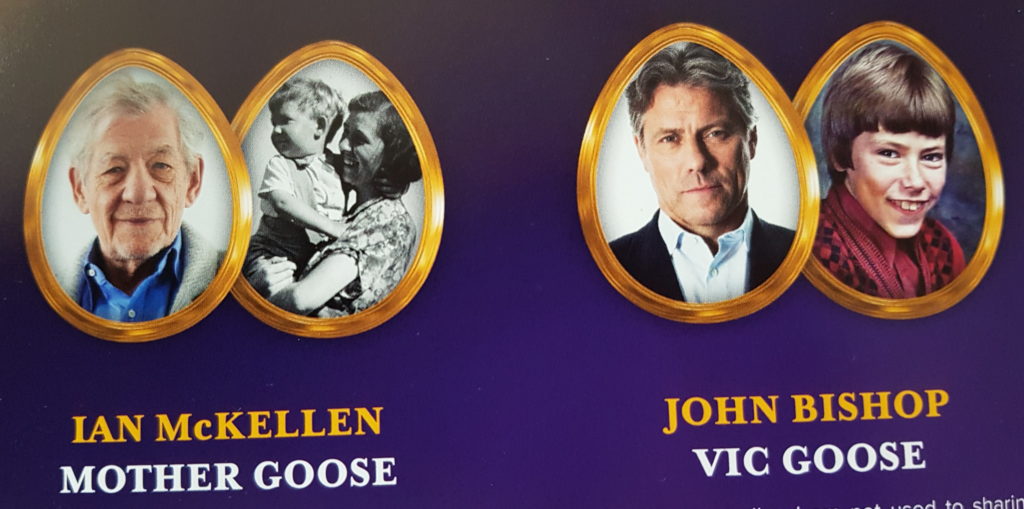 The award winning actor Ian Mckellen (perhaps best known as Gandalf) and stand-up comedian John Bishop were on the Graham Norton Show to promote the stage production of "Mother Goose" which was going on tour. It sounded interesting. My husband, out of curiosity, googled to see in which cities the legendary *pantomime was going to be performed. You've guessed it! Dublin. No sooner said than done…the next day all was booked: flights, hotel and theatre tickets
Day 1: Arrival
Actually, there was no Day 1! Our Air Lingus flight, of just under 2 hours, left from Düsseldorf in the evening so that we arrived at our hotel at about 10.00pm (GMT). Time enough for a night cap in the bar. I must say things went really well regarding our journey. Friendly airline staff, no delays and a 15 minute taxi drive to the Dublin Skylon Hotel.
Day 2: The Lie of the Land
No better way to start the day than with a full Irish breakfast! With hindsight, this was probably the more expensive option at 20 GBP each, but it was our treat. Every morning from then on I was hooked… I just had to have an Irish sausage! I still prefer English/Irish sausages to German ones.
Head into town
Our hotel was located approximately 35 minutes from the city centre on foot. Our first job was to get a TFL "Leap card" (16 GBP) which allows you to travel on all public transport in Dublin. A quick scan of this smart card on the bus or tram and off you. It proved invaluable for us after a tiring day sightseeing.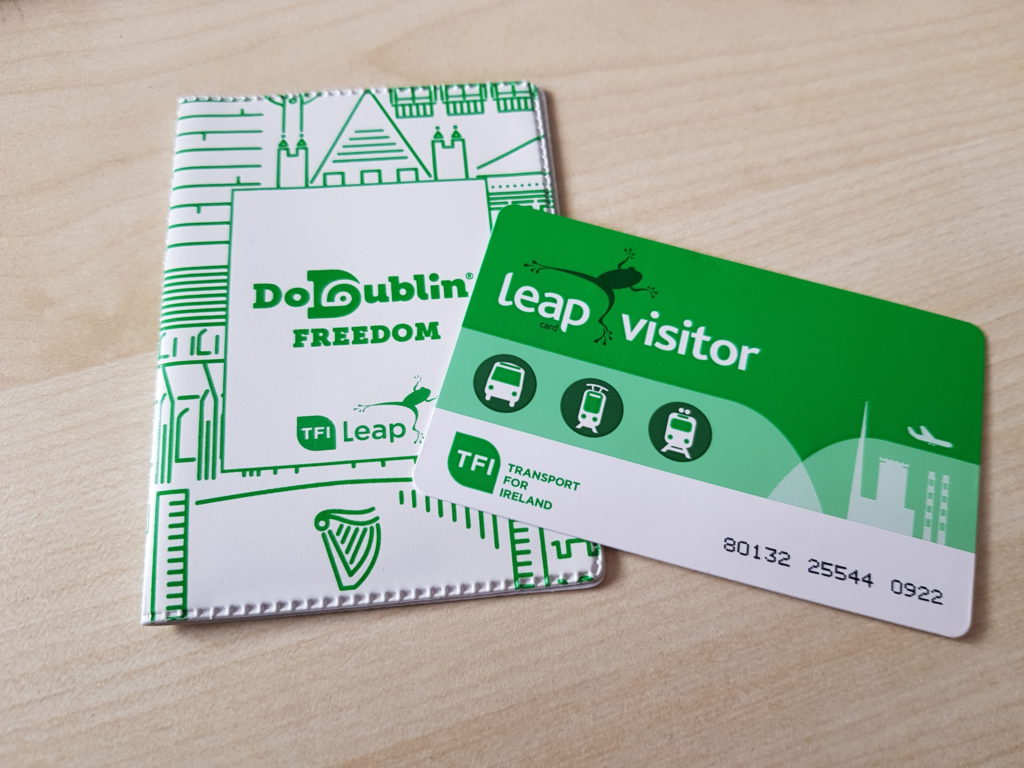 Hop-on Hop-Off Tour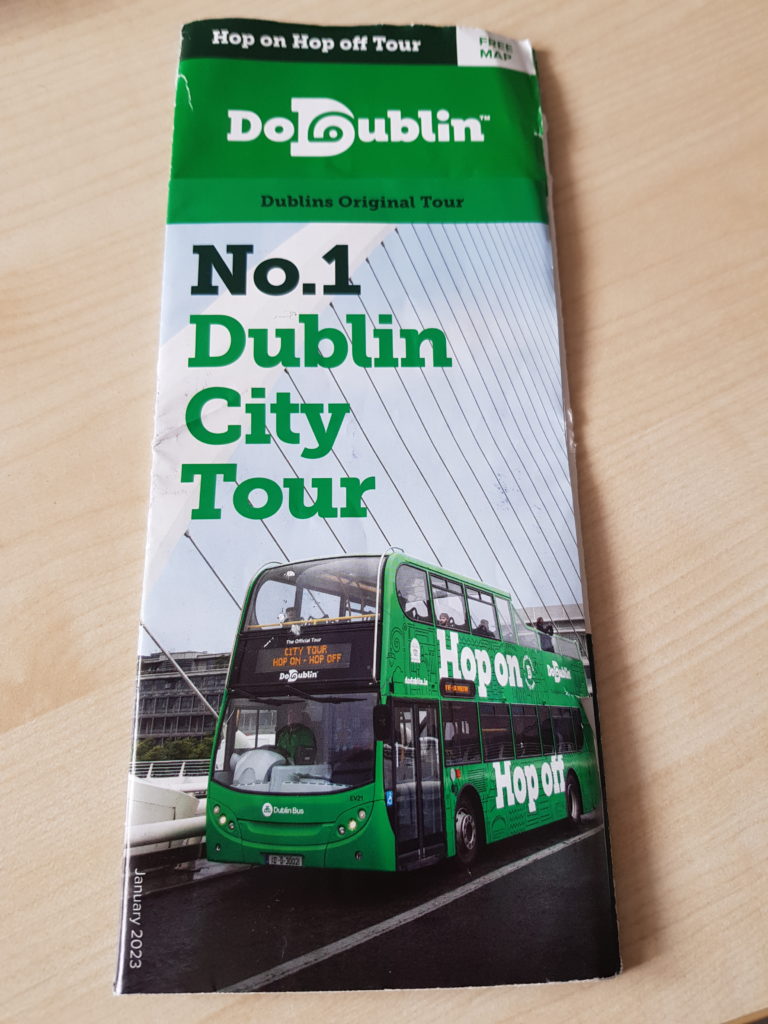 As is often the case when we are in a city, we went on a city bus tour. The 2 hour Hop-on Hop-Off tour was well worth the 28 pounds we paid. We chose to stay on the bus without getting off and it gave us a great overview of what there is to see in Dublin. This is when I spotted all the famous Georgian *Dublin doors.
Our tour guide/driver gave us an excellent commentary about the buildings and history of Ireland's capital city and even sang the odd Irish folk song. A lot of people got off at the Guinness Storehouse ..maybe it was the smell of the malt barley that lured them!
Day 3: Free of the English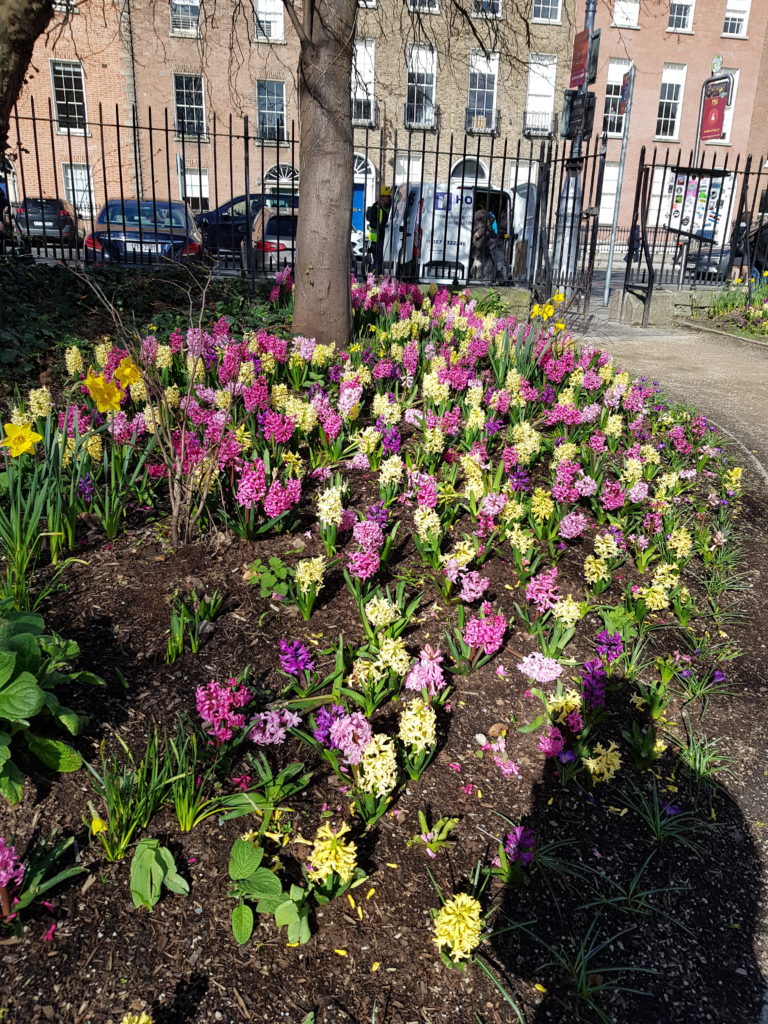 Walking around Dublin it became clear that the Irish people suffered in the past under the regime of the English. In St. Stephen's Green, a public park, we read about the 1916 rebellion. This was a battleground during the Easter Rising in the struggle for Irish independence. During the Rising Irish rebels dug trenches along the perimeter of the park, and the park's glasshouse was used as a First Aid station.
Being in Dublin was a little strange because at times it felt like we were in England, but clearly we weren't. For one thing, the signs were written in English and Gaelic and the lovely Irish accent was sometimes difficult to understand.
As a member of the EU, no passport was needed at the airport and we could pay with Euros. Of course the streets and pubs were full of tourists (especially English revellers on their stag or hen weekend) but those Dubliners who we met were very welcoming, talkative and extremely proud of their history and nationality.
Irish Identity
Ireland is a country rich in history. There are some really interesting museums. Here are 2 which I would recommend you visit if you have a chance:
The Little Museum of Dublin
This quirky museum offers a 30 minute guided tour in a typical 18th century Georgian townhouse. It's full of memorabilia and artifacts which reflect the 'ups and downs' of Dublin's history. It's best to book on line beforehand and you can only pay with your card in the gift shop. No cash!
EPIC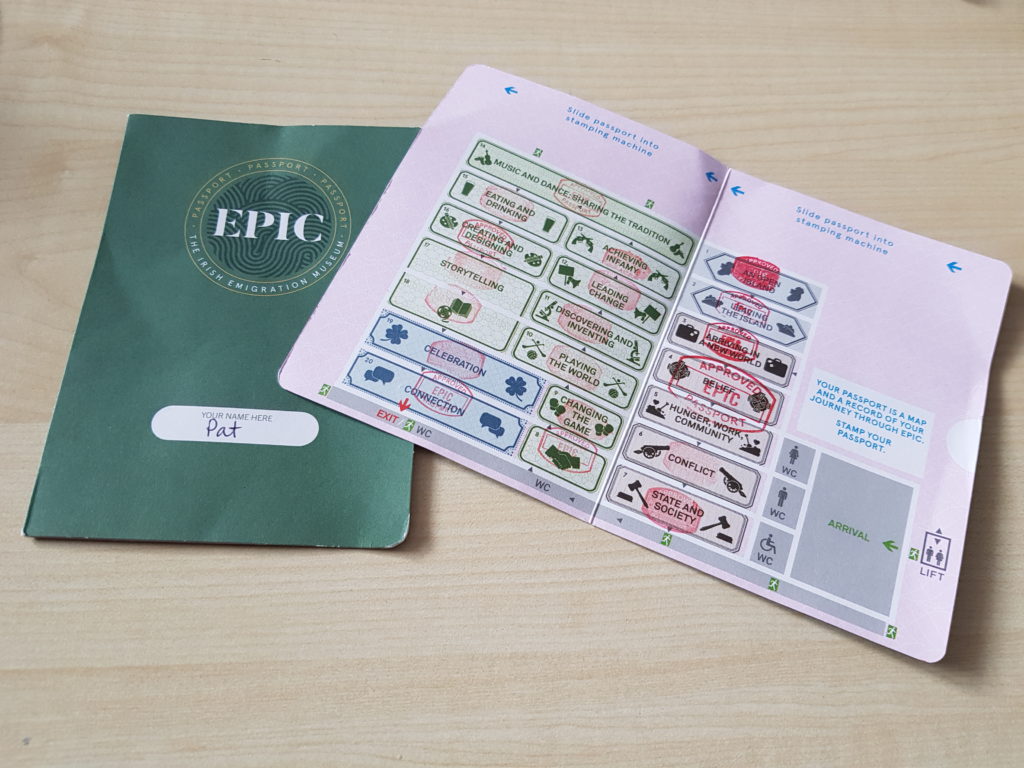 The Irish Emigration Museum was so enthralling that we visited it over 2 days. EPIC takes you on an interactive journey tracing the emigrants who left Ireland and their impact on World culture and history. Many were forced to leave in hard times, others sought adventure. It's not surprising that so many people have ancestral roots in Ireland. Fascinating!
The Famine Memorial
Opposite the EPIC museum is The Famine Memorial. For me these statues were probably the most thought provoking of all. The statues were designed and crafted by sculptor Rowan Gillespie and presented to Dublin in 1997. These haunting figures commemorate the Great Famine of the mid 19th century. During the famine approximately 1 million people died and a million more emigrated from Ireland, causing the island's population to fall by between 20% and 25%.
Day 4: The Final Curtain
Dublin Docklands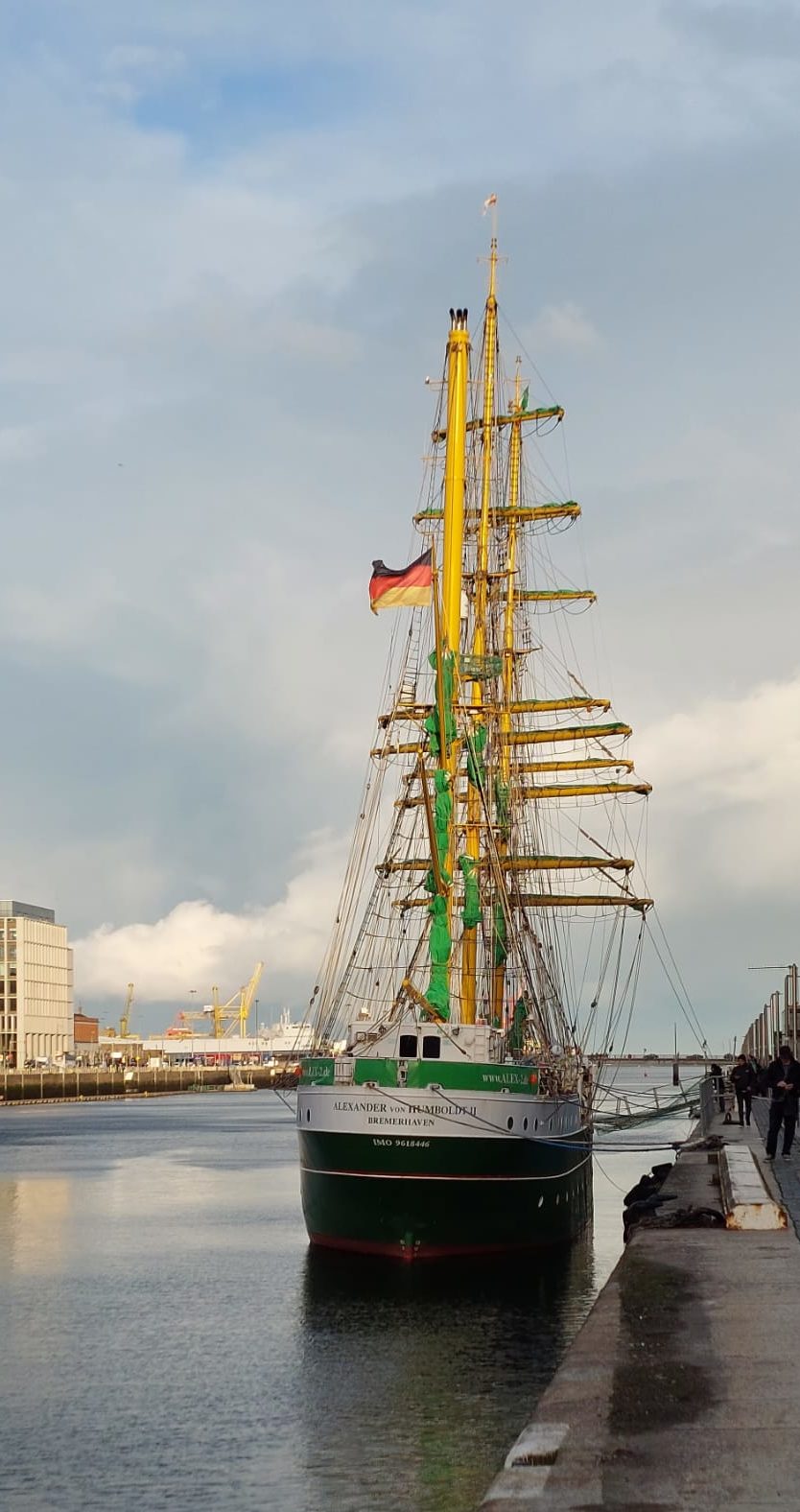 In the evening we wandered along the bank of the River Liffey, which runs through Dublin centre to the Dockland area. Back in the 19th and 20th centuries, the docklands handled the contents of many ships sailing in and out of Dublin Port, which – in its day – was home to the largest docks in the world. There were shipyards where vessels were built and repaired.
On the way we saw some amazing buildings and bridges including the Convention Centre Dublin and the Samuel Beckett Bridge, It is clear to see that the regeneration of this area has been a great success.
A Night at the Theatre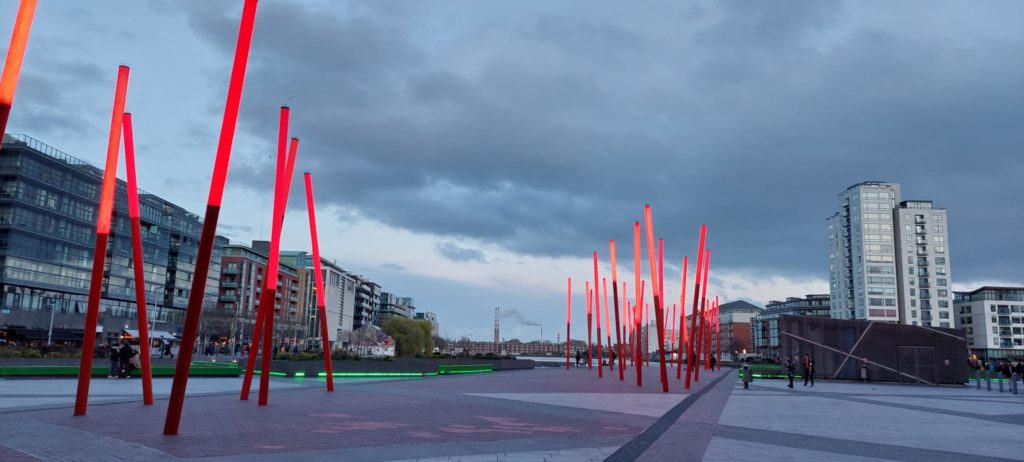 The Bord Gáis Energy Theatre where we went to see "Mother Goose" is not only impressive from outside but has an intimacy within which reminded me of my trips to see the Christmas panto in York. The performance was brilliant, even though John Bishop had to pull out at the last minute! In the programme we had been promised:
..a hilarious family-friendly mother of all pantos ..(with) the ultimate theatrical feast of fun (and) farce..

Bord Gáis Theatre
….it was certainly that! Thank you Graham Norton and Dublin.
I am sure we will be back in Ireland soon.
*See my other blog articles on pantomimes and Molly Malone and Dublin doors