People often talk about having a "sweet tooth", but what do you have if you prefer savoury food?
I don't think it would be wrong to say that, as a nation, the English have got a "sweet tooth". Brits are famous for their sweet cakes; such as, scones, Victoria sponge cake and apple pie – but the days of eating them everyday, for most people, have gone. Thank goodness!
Teatime
I remember coming home from school at 4 0'clock and setting the table for tea. This was my job. Everything had to be on the table ready for when my father came in from "milking the cows". There were cakes galore; buckets full (literally) of jam tarts, buns, flapjack and Rice Krispie Crunch. In our house Wednesday was "Baking Day" when all the stocks were replenished – a never ending supply of sugar.
Rice Krispie Crunch
Recently we made some sticky Toffee Marshmallow Crunch. We ordered the box of Kelloggs Rice Krispies on the internet because you can no longer buy them here in Germany. You may remember this cereal – when you added milk to the bowl, the crispies made a popping noise and so the 3 cartoon characters, Snap, Crackle and Pop got their names.
If you are interested here are the ingredients:
2 1/2oz (*ounces) Kellogg's Rice Krispies, 2 ozs butter/margarine, 2 ozs caramel toffees, 2 ozs marshmallows and 6 tspns (teaspoons) lemon juice.
Naughty but nice but be prepared for a sugar shock!
*For more information about imperial weights and measurements which are often used in British and American recipes , see my article "The measure of English Cooking"
Walkers Crisps
When you get the "munchies" (Kohldampf) a good alternative to something sweet is a packet of crisps. Equally unhealthy. Unlike in Germany, most crisps sold in the UK come in small packets and are totally practical for a packed lunch or for sitting in front of the TV. I recommend Walkers Crisps which are similar to Lays Crisps: both companies are part of the PepsiCo group. Walkers are produced in Leicester and are well known, not just for their quality, but also for their unusual flavours.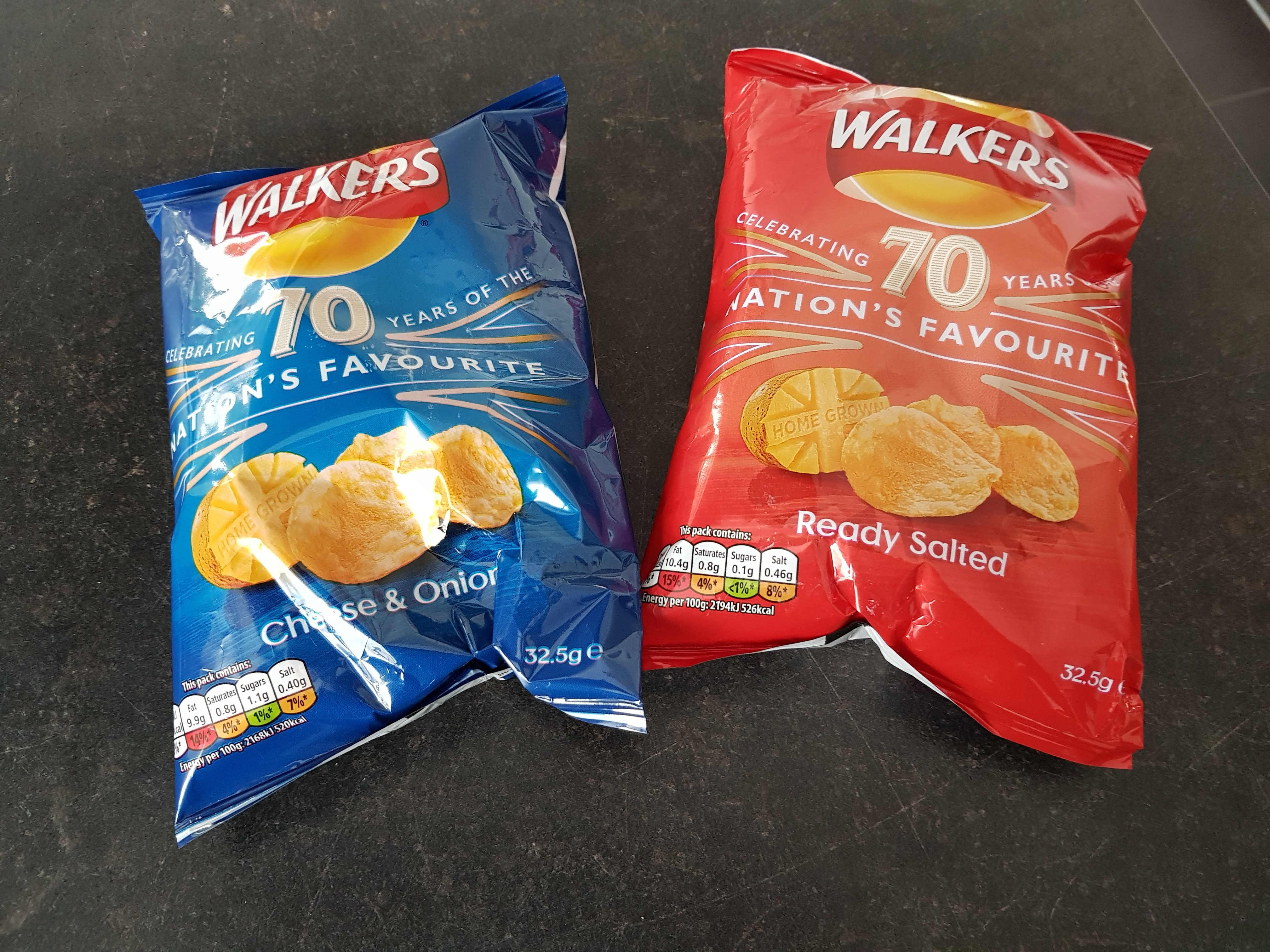 Instead of Ready Salted, Salt and Vinegar or Cheese and Onion flavours, maybe you can try Roasted Lamb and Mint or Prawn Cocktail (Krabbencocktail). Delicious!
Go Crackers!
On a savoury note: have you ever tried Jacobs Cream Crackers? I brought some back from England and ate them with some Cheddar Cheese , topped with chutney (unfortunately my favourite Branston Pickle was not available so I settled for another brand). I must say, I was a little disappointed with the taste – isn't it funny how you remember things differently.