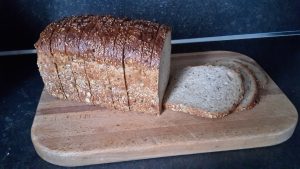 Use your loaf!
"Use your loaf" is an English saying which means you should use your brain or head. Often used in a derogatory way when telling someone to think and be more careful.
After so many years of searching, I think I have found my perfect loaf of bread. Most German bread I have tried has always been too "heavy" for my English taste. I prefer a wholemeal bread which has a bit of bounce in the middle. At Cafe Zehner's bakery in Witten-Heven I now regularly buy a "Multisport" loaf (with buttermilk, linseed, pumpkin seeds and oat flakes) cut on number 12. Nice and thick, especially good when toasted and spread with Kerry's Irish butter and homemade lemon curd. Mouth watering!
Lemon curd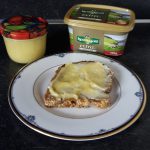 I have fond memories of my Mum eating lemon curd but when I tried the bought product from our local supermarket, it didn't really hit the mark. So, using a recipe off the internet I made my own. Wow! What a difference. Here is the recipe link: www.bbcgoodfood.com/recipes/lemon-curd. Why not try it, it's delicious.